I bought a new player last friday at Anitec. I spend $118.97 incl. tax.
It works very well to play video, audio, photos from my USB disk or shared folder of other PC.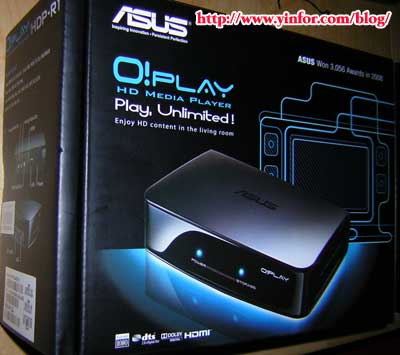 Let's see the content of the box.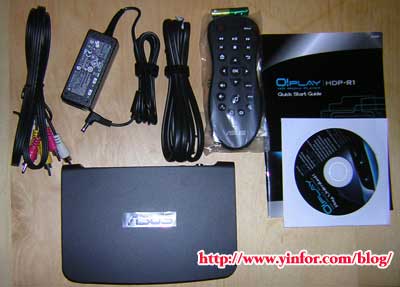 There are AV cable, Power Adapter, Remote Controller, Quick Start Guide(booklet) and User Manual CD (From left to right, TOP)
The player is a black box.
It has one eSATA/USB combo port, and one USB port at left side, AV out ports, Optical s/pdif out port, one HDMI out port, and Lan port at the back of the player.
The media files can be stored at USB flash disk, USB/eSATA hard disk drive connect directly to the player. The other way is the player can connect the PC/Notebook within a LAN.
If put the files in PC, the folder should be shared, then the media player can access by local area network.
There are so many media player on the market, why I chose it.
The most important issue is that HDP-R1 support RMVB format video files.
OK, let's go through all the formats it supports.
Video MPEG1/2/4,H.264,VC-1,RM/RMVB
Video File Extension: .vob,.mp4,.mov,.xvid,.avi,.divx,.asf,.wmv,.mkv,.rm,.rmvb,.flv,.ts,.m2ts,.dat,.mpg
Audio: MP3,WAV,AAC,OGG,FLAC,AIFF
Image: JPEG,BMP,PNG,GIF,TIFF
Subtitle: SRT,SUB,SMI,SSA
The other two points I like are the price and power consumption.
The price is good enough, when I compare it with other products. The power consumption is below 10W. I played about 5 hours video. I put my hand on top of it. It is a little bit warm.
The great thing is Asus O!Play HD Media player HDP-R1 support full HD 1080P.
The eSATA is 6x faster than USB. So HD video can be played smoothly.