G3Grey Theme and required modules for Gallery 3, Gallery the Revival.
What is Gallery 3?
Menalto Gallery 3 Project was a nice, free PHP-based photo gallery engine many years back. It went into hibernation due to a lack of support some years ago but is still being used by a number of sites.
There is an attempt to revive the project led by Brad Dutton here and a discussion forum here.
I start to use Gallery 2 in 2007. Later in 2010, I upgraded it to Gallery 3.
I am still using it on my HomeLab website. Now, it is Gallery the Revival. version 3.1.5.
The theme I was using is GreyDragon Theme, made by Serge D.  He did not update anymore for this theme since he uses Piwigo.
So, I start using GreyDragon as a base to make my own OpenSource G3 Grey Theme.
G3Grey Theme
It is a custom theme.  It is a kind of fork from the GreyDragon theme. I removed all short-open tags first. To make sure it is working with Gallery The Revival 3.1.5. Later I will make more changes to make it modern and updated.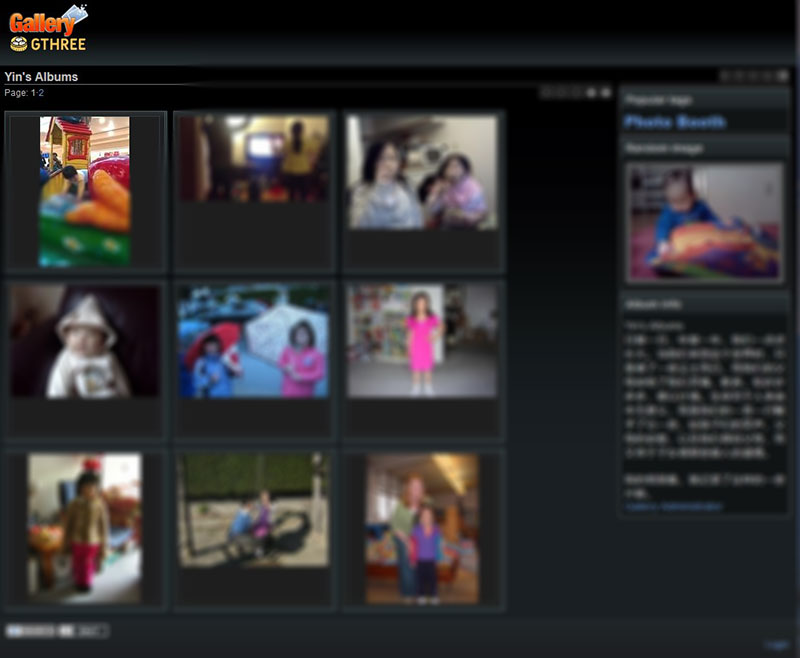 Download
On the release page, v5.0.0
Installation
Download and unpack the package into Gallery's themes folder. Please make sure "g3grey" folder is not duplicated.
Login as Admin into your Gallery 3 instance and navigate to Admin\Appearance\Theme Choice
Activate G3Grey theme
It is advised to visit Admin section of the theme and review provided options at Admin\Appearance\Theme Options
I am also using  Fancybox modules for popup-style image preview.
GitHub Link: https://github.com/binghuiyin/g3grey
Please post any requests, questions, bugs, or support on the forum.
Donations
Thank you!
You can donate to my tea fund for a tea break when I continue my improvement with this project.
List of themes and modules for Gallery 3
Themes:
G3 Grey Theme 5.0.0 Link
Modules:
G3Grey Share 2.0 Link
Fancybox 2.0 Link
External 2.0 Link
Developing plan
Make it work with Gallery the Revival. Done
Double-check the functions.
 JS to the latest version
CSS to the latest version
Add more color pack