Just a few days ago, my OBi110 device does not work with my Google Voice. I can not dial out, and no incoming call, until today, I fixed it.
Sometimes it said some configuration error. I sign in my OBiTalk account at https://www.obitalk.com/obinet/
Normally, the device OBi110 can do the firmware update through the OBiTalk account dashboard. but it did not work this time.
When I sign in my account, then go to the device configuration page. I can setup Google Voice account by clicking the gear icon beside the account. But, now it is shown a warning or error without setup.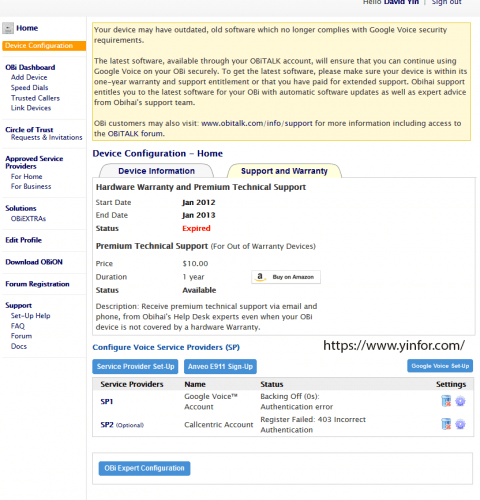 The error displayed is Authentication error.
Now, let me show you haw to fix this error. the most important part is to upgrade the firmware of the device.
The latest firmware is 1-3-0-2886, the current one on my OBi110 is 1.3.0 – 2872