It is already twelve days past. I started a new campaign since March 20. Here is an update of it.
From 2019.03.20 to 2019.3.30
Compared with the previous year.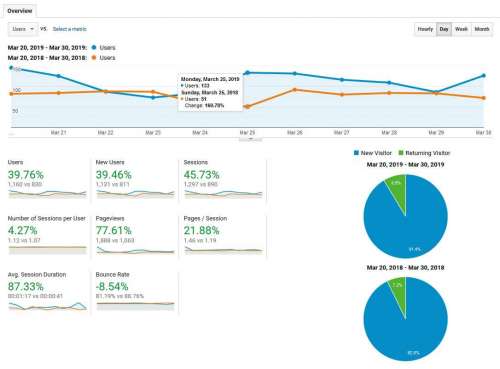 Users: 39.76% increase
New Users: 39.46% increase
Sessions: 45.73% increase
Pageviews: 77.61% increase
Bounce Rate: 8.54% decrease.
These changes are in a good direction. I am happy about it.
Based on the Awstats report.
During the same period.
Average Visits is 576,  105% increase.
Average pages is 2379,  165% increase.
When I wrote the post, New Campaign for my Blog,  I was thinking about double the traffic in ten days. Maybe I thought too much. Let me check the statics of one month.
Based Awstats report.
Feb. 2019, Total 6164 unique visitors, 10,669 visits, 31,803 pages.
March 2019, Total 8692 unique visitors, 16,664 visits, 93,037 pages.
Based Google Analytics report.
Feb. 2019, Total 2,987 sessions. Page/session is 1.22.
March 2019,  Total 3,515 sessions. Pages/session 1.49.
Even I counted it in monthly, the change direction is also in a good way.
It loos not good enough. I will keep the blog running and make the improvement in April.