Update: BlogRush is shutdown in 2009
I just sign up the new online traffic booster facility, BlogRush.
It is very simply to apply BlogRush, Just click the link above, enter your email, your blog's address, feed address, and choose your category. That's all.
Now you have an account and copy the code of account and paste it into your blog. Done.
Let me introduce how benefit you will have if your sign up the BlogRush.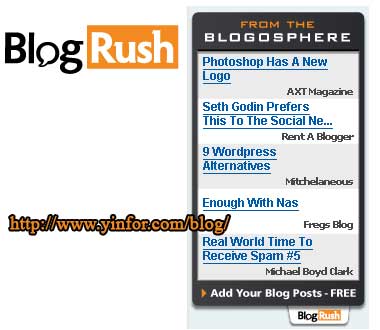 Each time the widget displays you earn a 'credit' which means that a recent headline from your own blog will be displayed on someone else's blog. If your blog gets 100 page views a day your headline will be displayed 100 times on other people's blogs.
Sounds good. It is fair to you display once and the other blog display once for you.
Not only that, more traffic you will have. They have a referral system so that if another blogger signs up to Blog Rush after clicking through to it from your widget you'll get credits each time that the referral blog shows the widget. The referral system goes 10 tiers deep – so you can potentially get ALOT of credits.
Ten levels. Unbelievable. And It is Free.
And also there is some features I really like.

Sign up BlogRush to get following features and drive more traffic to your Blog.
* Attempt at Relevancy – they show headlines on your blog that are relevant to your content (I suspect this will get better as more join up – but at present I've seen some somewhat irrelevant links showing up)
* Filters – you can filter out any keyword that you want and any URL that you don't want to display on your blog
* Multiple Blogs – you can split the spread of your credits among multiple blogs (ie if you have two blogs you can enroll with both.
Before you apply for BlogRush, make sure your Blog is in English only.