Cloud storage is all the rage nowadays, and Box is doing a promotion that's sure to make those of you who just can't get enough happy: the company is giving away free-for-life 50GB accounts to anyone who downloads and uses the updated Android app by March 23rd.
I applied my first Box.net account from my computer. It said I have 5GB free space with 25MB file size limitation.
Then I use my Android cellphone, HTC Desire HD to download the app and enter my account.
The message said I have be upgrade to 50GB free space. And the file size limit is 100MB.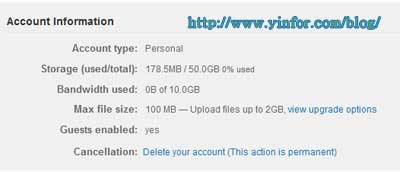 It is Cloud storage service.