EaseUS has a free disk partition software. The product name is Partition Master Free. The latest version 10.8 for Windows, from XP (retired system) to Windows 10. It is also has different language version, which support English, Deutsch, Español, Français, Português, Polski and 日本語.
Actually it is made by a Chinese online software company.
I has ten Key features.
Resize/Move partitions without data loss, like extending NTFS system partition without reboot to maximize PC performance.
Convert FAT to NTFS file system
Partition Recovery Wizard allows to recover deleted or lost partitions from unallocated space.
Convert MBR to GPT disk and convert GPT to MBR disk without data loss.
Support up to 8TB  GPT disk.
Saftely merge two adjacent partitions into a bigger one without data loss.
Copy entire hard disk to another  without Windows reinstallation.
Convert primary partition to logical partition and vice versa
Wipe disk or wipe partition to permanently wipe sensitive data on disk.
Support all hardware RAID, removable storage device, hard disk, GPT disk and FAT/NTFS/EXT2/EXT3 file system.
I make the features I like to bolder.
Here is the simply steps of installation.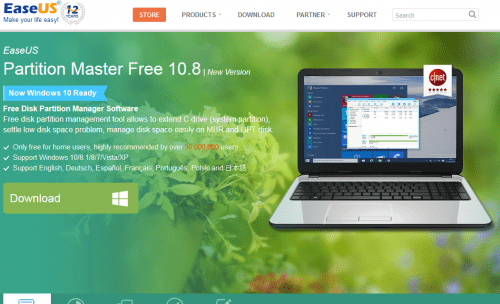 Goto above official web site to download the installation file.
The installation file name is epm.exe, about 28MB.
Then double click to run it.
During the installation, it may ask a few recommendation software, including PC Mechanic, EaseUS Todo Backup Free, etc.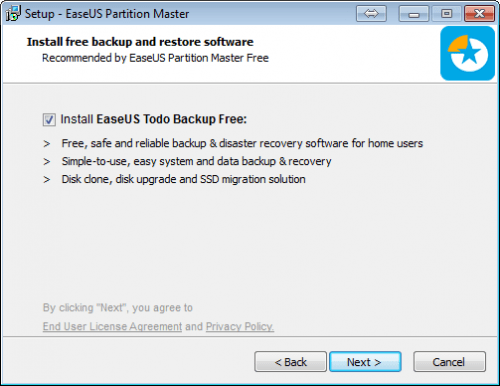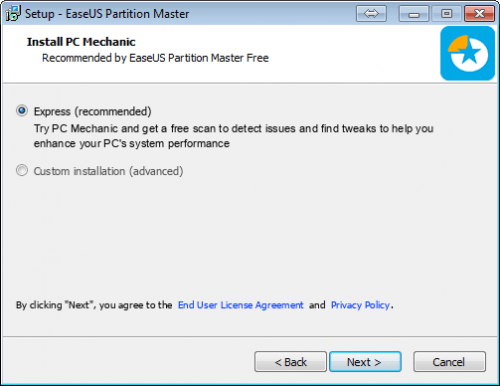 If you don't like them, you can uncheck the check mark or choose Custom installation. Then it will only install the Partition software.
On the very first screen of installation, it show you the difference of Free edition and Pro edition.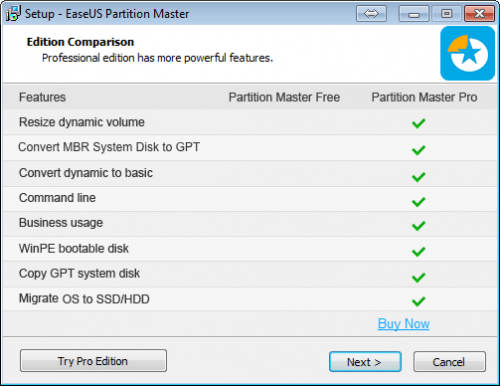 If you are interested in these additional features, you can try Pro edition.
I just wondering why EaseUS Partition Master Free Edition need to add a startup item, EaseUS EOM tray and EaseUS EPM Tray Agent,  into the system. I hate these unnecessary startup program. So I disabled it.
Here is the main screen of the program, when I run the program first time.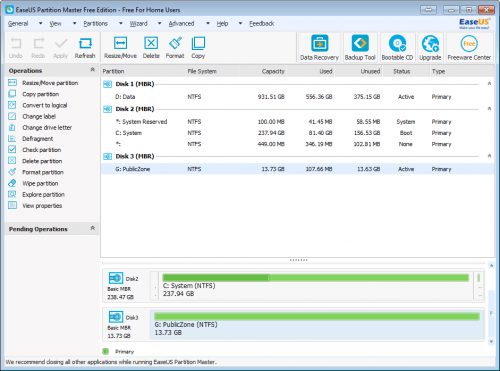 I tried some operation on my USB disk, which is NTFS file system format.
Such as Resize partition / Delete partition / Wipe partition / Create  partition.  No issue found.
If you need a free Partition software, I would like to recommend it.