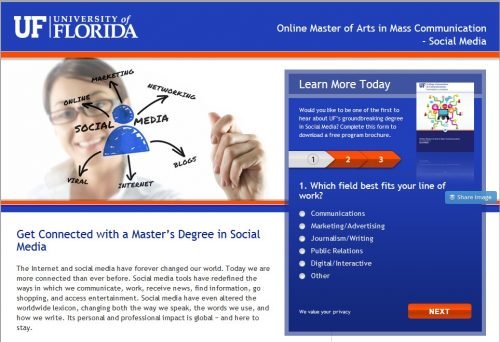 Fifteen years ago, most people couldn't even imagine how much we would come to depend on the Internet and social media such as Twitter, Facebook, LinkedIn, Google+, YouTube, Tumblr, Vimeo and all the others available. Now almost everyone is so familiar with them that these are household names. Forward-thinking business people can plan how to use them for advertising, marketing, journalism, public relations and creating brands. It's important for individuals planning to enter the specialized fields of advertising, marketing and public relations to be able to track social media as well as analyze and assess its impact.
Advantages of a Master's Degree in Social Media
A Master's Degree in Social Media can give you the opportunity to obtain the tools, techniques and practical knowledge to use this new opportunity to expand your professional reach. Many schools even offer programs to earn this degree online. Advantages include:
-The opportunity to focus on information and techniques to take advantage of adaptation, developing craft and delivering customized social media content.
-This degree, as the first of its kind, can help you stay ahead of the breaking curve, establishing yourself as an innovator and asset to your current company.
-The courses are flexible and adaptable so you can complete a master's degree in as little as 18 months.
-These courses are immediately useful in your business or creative endeavor.
In the process of your studies, you will gain information about social media, its development and history as well as the sociological implications of this type of media in society. Since the field is so new, different areas of expertise are constantly developing. The University of Florida has a social media degree to help with creative ways to use social media in a number of settings. The potential of this degree and the learning you can obtain from it is staggering. No matter what field you are currently engaged in, this education will be useful in many ways. With the convenience of earning it online and the risk of being left behind as the rest of the world continues to advance, there isn't any reason not to pursue an advanced degree.