I have a Samsung ML-2010 laser printer for 4 years. You can find the post of it. the day before yesterday, when I want to print something, it did not work. I tried to fix it. All failed. The red and green lights kept blinking.
OK, it is time to get a new one, I thought. I checked Bestbuy, Stalples, Office Depot, Future Shop, etc. Compare the price and features from All-in-one laser printer to wireless printer. Color laser printer is not in my consideration.
I make the decision that Samsung ML-1915 is the right one for me.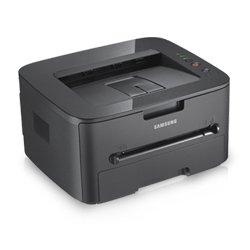 picture from Samsung official site.
Actually, I just need a laser printer for print only. Scan, copy are not necessary. Wireless is also not must have. I use DNS-323 as a printer server. All computers in my home can access the printer through DNS-323.
Samsung ML-1915 is on the market last Oct. Not a old product.

The specs shown below:
Speed (Mono) Up to 18 ppm in A4 (19 ppm in Letter)
Resolution Up to 1,200 x 600 dpi effective output
Input Capacity and Types 250-sheet Cassette, 1-sheet Manual Tray
Memory / Storage 8 MB
OS Compatibility Windows 2000/XP/Vista/2003 Server/2008 Server,Mac OS X 10.3~10.6,Various Linux OS
Ships with 700 pages Starter Toner Cartridge
The noise level is lower than ML-2010.
The another key point is the price. Future shop's price is $69.99. Plus EHF and tax, total is $85.67.