It is an old watch for woman. My wife received it as a gift from her cousin about twenty years ago.
I found it from the old stuff in  Shanghai. It does not work because of battery.
When I home, I open it by the special tool, which I will mentioned later. Took the battery out and located the size or model number is 364.
Now it is simple, go to Ebay.ca and bought a pack of this battery.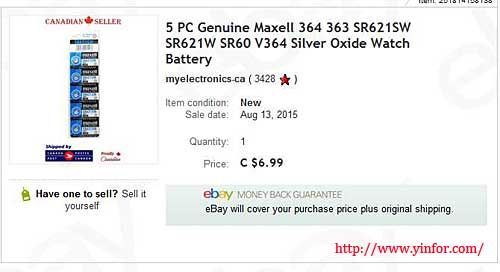 It is 5 PC pack. Brand name is Maxell, Silver Oxide Battery for Watch. 1.55V. Model number is 364 SR621SW SR60 363.
I made the order on Aug. 13, 2015. Received the item Today, Aug. 21, 2015. The back of the pack shows the exp. date 12.2016.
About the SR621SW Battery
SR621SW is the name of a small 1.55 volt battery.  It is a popular battery for watches and other small electronics.

S stands for its silver-oxide positive electrode terminal.
R stands for its round shape.
6 stands for 6.8 mm diameter.
21 stands for 2.1 mm height.
S stands for its sodium hydroxide electrolyte.
W means the battery meets the International Electrotechnical Commission (IEC) standard for watch batteries.
Capacity: 20 mAh
Voltage: 1.55V
Then I replaced battery with the new one I just got. Put the cover back with a small rubber hammer. It is hard to open the back-cover and put it back.
Here is the watch.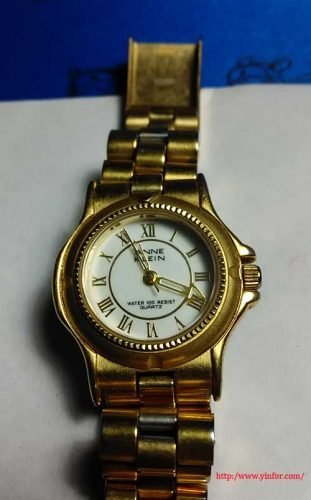 Based on the Ebay listing description: T
his is a Beautiful Gold Tone Anne Klein ladies watch. It is water resistant to 100ft and  has a white face with gold Roman numerals. It has a clasp Rolex style band. It is Quartz.
The listing price of it is US$19.99.
Watch Model: 11/7878-9 9GB
Actually I want to show off the watch tool set.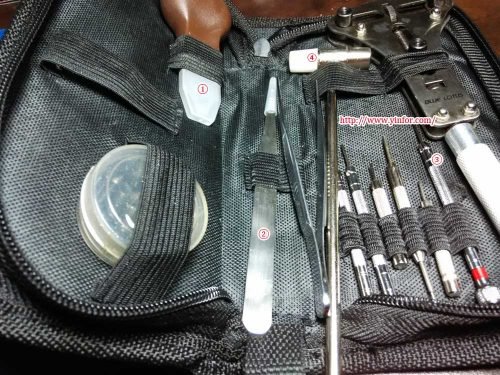 I used four tools today. See the number in picture.
The opener;
Tweezer;
Screw driver;
Small hammer with rubber head.
I purchased this set of tools from Taobao, so called Chinese Ebay previously.
I paid ¥64, including shipping fee to Shanghai. Converted to Canadian dollar, $13.