It is the first time that I replace rear turn signal of Pontiac Montana SV6. I am not a handy man. I just like to play computer only.
OK. The situation is right rear turn signal issue. It is not working. If I send it to car dealer to fix it, it may cost $50.
How to DIY replace it? Which lamp is it to replace?
I do not want to give my whole story. Only valuable information is worth to record here.
1) Tool.
T screw driver. It is T-30, you need it.


2) Lamp
The original one is WAGNER 3057KX bulb.
I bought a Sylvania Long Life Lamps 3057LL. Two lamps a pack.
It is about $3.50 at Walmart.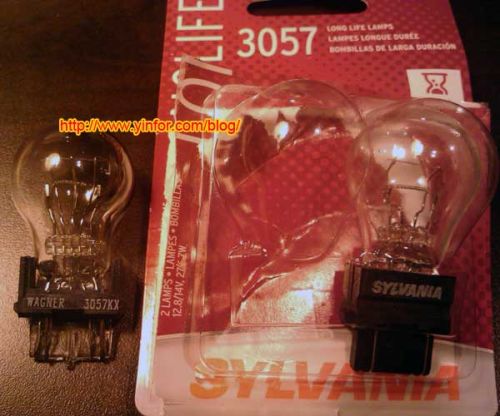 Left one is the old burned lamp. Right is the new one.
3)How to replace it.
It is easy to replace it. You only need to find the way to take out the lamp.
Open the rear lift, see the picture below. There are two holes. You need the T-30 to remove two screws. Then you can take the lamp down and know how to do it.