I bought a brand new laser printer, Samsung ML-2010 yesterday at Staples. I paid $148.10, which is regular price $199.92 minus instant rebate $70.00, plus 14% tax. This printer has another mail-in rebate $30.00.
Staples provides an Easy rebates, which is an online rebate. Really easy and quick. I don't need to cut the UPC bar code and put all related receipts into a envelope. And even no postage. Just go to Easy Rebates and fill in the rebate form online, submit it and all done.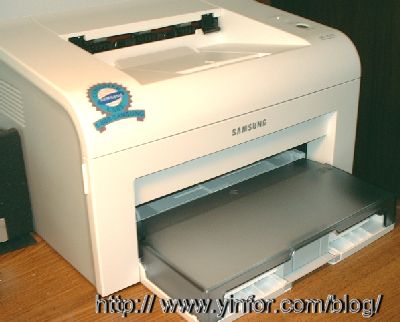 The good: Fast; inexpensive; good-quality text; easy to set up and use; PC, Mac, and Linux compatible.

The bad: Small paper capacity; mediocre graphics quality; doesn't include USB cable. Noise when starting and warming.
It is a better printer for this price. Based my very low usage, I think maybe I wil purchase a new printer every three to four years. The printer is almost same price as a replacement toner. Why not? New printer is faster and smaller. The toner saving technology is more advanced. The printing quality is higher than the old model.
More detail features of ML-2010, go to this page.