My Nexus 7 (2013) tablet got the OTA upgrade notice on November 10, 2015. It is a big update from Android 5 to Android 6, or from Lollipop to Marshmallow.
It is said new Android 6.0 Marshmallow improved performance, battery life and features.
Since the first announcement at Google I/O on May 28, I wait more than five months to get the OTA update package. The update package size is 334.9MB.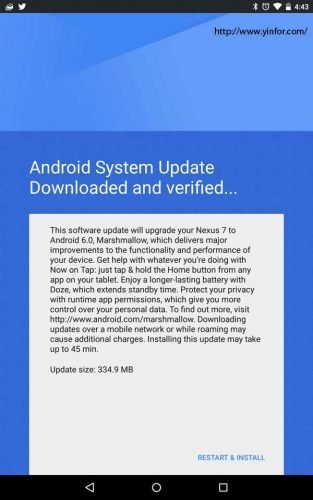 Look at the system update notice.
Get help with whatever you're doing with Now on Tap: just tap and hold the Home button from any app on your tablet.
Enjoy a longer-lasting battery with Doze, which extends standby time.
Protect your privacy with runtime app permissions, which give you more control over your personal data.
and more here https://www.android.com/versions/marshmallow-6-0/
Here is the screen shot of About table page before update. Android version 5.1.1. Build number LMY48T.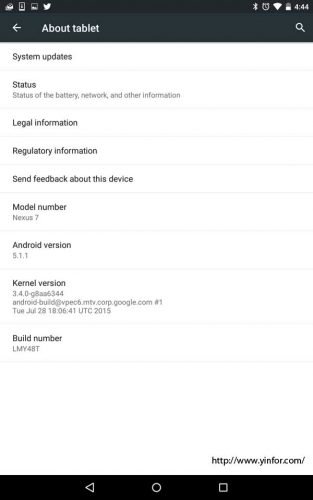 The screen shot after updating. Android version 6.0. Build number MRA58V.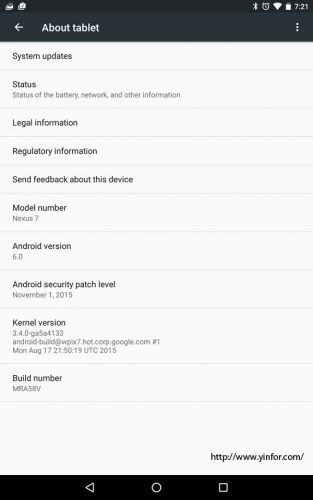 It is not taking that long to do the update. Just about 20 minutes. I got the new firmware and it is looks so cool to have a two years old tablet with brand new OS. Not all Android devices are so lucky. My suggestion is to buy a Google's own products to keep them updated.