Here is a notice from FortisBC, the natural gas provider in BC.
The title of the sheet is Natural gas rate changes. With a chart, showing 53% decrease in six years.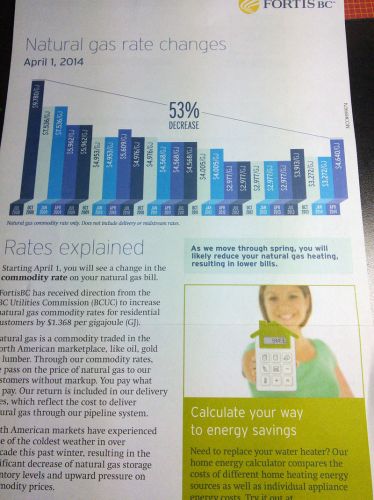 But when I have a closer look at the Rates explained part, it tells the truth of rate increasing.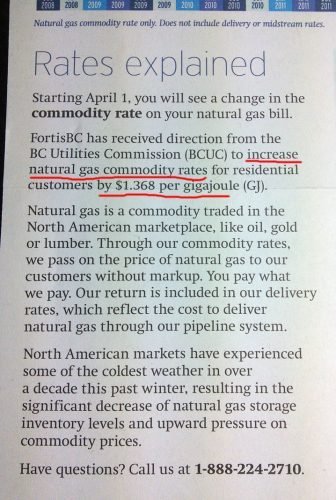 It said the commodity rates increased by $1.368 per GJ. It means increased by 41.80%. It is a huge increase.
When I look at the back of this paper. It said, "BCUC approves FortisBC common rates, Over the next three years, FortisBC will take steps to offer more stable rates throughout our service areas."
Does it mean the rate increased will stay on the high level and lasting for three years?
The answer is YES. Look at what they posted on their web site:
Lower Mainland, Columbia and Inland
Typical Lower Mainland, Columbia and Inland residential customers will see a one-time increase of approximately $45-54 to their annual bill. However, FortisBC is proposing to mitigate this rate increase for three years so that typical Lower Mainland, Inland and Columbia residential customers only experience an increase of $28-34 to their annual bill starting in 2014. In 2017, these customers would see a second increase bringing them up to the $45-54 annual bill increase amount."
vi commonrates
If you living in the Lower Mainland BC, check your April gas bill.