I installed  a Zend Server on one developing server. It is v6.
Zend Server Version: 6.0.1
Build: branch_zend_server_release_6.0.1:69400
The original license information is trial for one week, full features.
After one week, I need a Free License to use it.
Now I got a Free License and it works perfectly with certain limitation.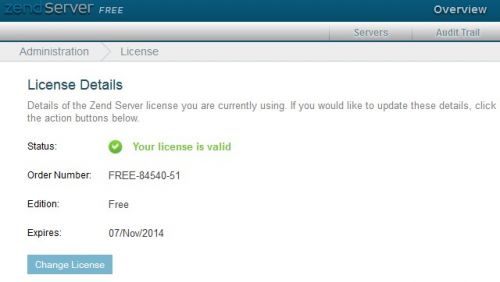 How to get your Zend Server Free License?
1) Sign in Zend Account
If you do not have it, just sign up.
2) Click the link below to get one
http://www.zend.com/products/server/license/product?edition=FREE
You will see you Free Zend Server License information, including Order number and Serial code.
3) Sign in your Zend Server to apply the new license
Administration > License
Click change license button and enter the order into order number field, and Serial into License Key field.  Save it and it will restart.
What is the limitation of the Free Edition?
While free Zend Server is a great solution for a development project, it has limitations compared to paid Zend Server subscriptions. Paid subscriptions include longer data retention (months or years rather than an hour of metrics), technical support and security patches , more performance features,  and multi-server support and management.
Look at the Zend Server Editions comparison.