I received it the day before yesterday. Only two days in transit from Campbellsville KY US to Burnaby BC, Canada through UPS.
It is a small package. Open it, only the Kindle Touch device and a one piece quick start paper inside. Oh, and the USB cable.
Let me have a look at it.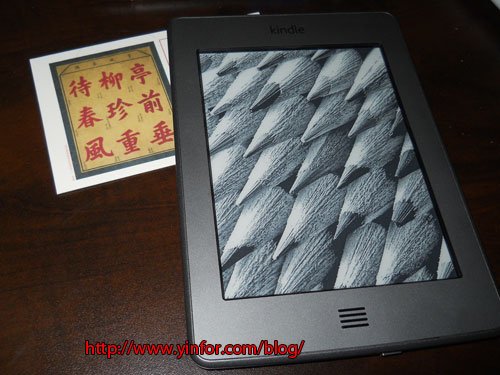 I connected the USB cable to computer, and transfer one Chinese book to it. Later, I disconnected it, and open the book to test. The Chinese character looks wired. They are in different font size or weight.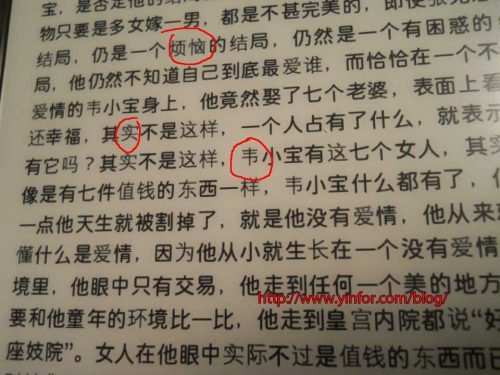 The Chinese character with red circle is a little bit thin and looks smaller than others. It is very poor experience when I read Chinese book on Kindle Touch with 5.0.1 software.
First of all, I am thinking about do some trick to fix it. Just like I did on Kindle Keyboard before. Replaced font size and font configuration file.
But at the last I think I check the software, or firmware version first. When I look at the firmware version of device info, it shows 5.0.1. The software on Amazon website said it can be upgraded to 5.1.2

There are two steps upgrade.
1) Upgrade from 5.0.1 to 5.1.0
2) Upgrade from 5.1.0 to 5.1.2
After upgrade, I open the same book. The Chinese characters are OK now.
See below: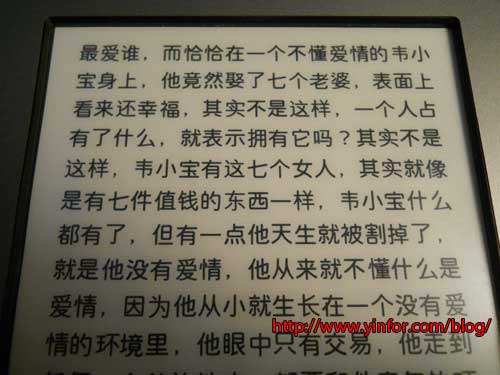 So that, I don't have to do any hack or fine tune to fix the Chinese display problem. The Amazon software upgrade did it.
Here is the list of new features of Kindle Touch.
Display Amazon's 6″ diagonal most advanced E Ink multi-touch display, optimized with proprietary waveform and font technology, 600 x 800 pixel resolution at 167 ppi, 16-level grayscale.
Size (in inches) 6.8″ x 4.7″ x 0.40″ (172 mm x 120 mm x 10.1 mm)
Weight 7.5 ounces (213 grams)
System Requirements None, because it's wireless and doesn't require a computer to download content.
On-device Storage Up to 3,000 books or 4 GB internal (approximately 3 GB available for user content).
Cloud Storage Free cloud storage for all Amazon content
Battery Life A single charge lasts up to two months with wireless off based upon a half-hour of daily reading time. Keep wireless always on and it lasts for up to 6 weeks. Battery life will vary based on wireless usage, such as shopping the Kindle Store, web browsing, and downloading content.
Charge Time Fully charges in approximately 4 hours via the included USB 2.0 cable connected to a computer. Power adapter sold separately.
Wi-Fi Connectivity Supports public and private Wi-Fi networks or hotspots that use the 802.11b, 802.11g, or 802.11n standard with support for WEP, WPA and WPA2 security using password authentication; does not connect to WPA and WPA2 secured networks using 802.1X authentication methods; does not support connecting to ad-hoc (or peer-to-peer) Wi-Fi networks.
USB Port USB 2.0 (micro-B connector)
Audio 3.5 mm stereo audio jack, rear mounted speakers
Content Formats Supported Kindle (AZW), TXT, PDF, Audible (Audible Enhanced(AA,AAX)), MP3, unprotected MOBI, PRC natively; HTML, DOC, DOCX, JPEG, GIF, PNG, BMP through conversion.
Documentation Quick Start Guide (included in box); Kindle User's Guide (pre-installed on device). Additional information available online.
Warranty and Service 1-year limited warranty and service included. Use of Kindle is subject to the terms found here.
Included in the Box Kindle wireless e-reader, USB 2.0 cable, Quick Start Guide. Power adapter sold separately.