Last week, I bought a Apple iPod Touch 8 GB from Costco. I feel the capacity is not the problem for me. So I pick up the 8G version instead of 32G or 64G.
I opened box and charged battery and tried it. It looks good. But it has no mic. I can not use Skype or other Voip program on iPod Touch. Then I did a lot of research to find the difference between 2nd Generation, 3rd Generation and 8G, 32G, 64G edition.
The answer is 8G iPod Touch is 2nd Generation, only 32G and 64G are 3rd Generation iPod Touch.
3rd Generation has more powerful CPU, bigger memory. and has earphone with mic and remote control.
One day later, I went to Costco, return the iPod Touch 8G and bought a iPod Touch 32G about 330 dollars within tax.
It is great. I like iPod Touch. It is a must have for Geek. I am a little bit later to have a new product. I would like to use the 2nd or 3rd generation product, not the first generation. I always think the first one has a lot of chances to have bugs or problems.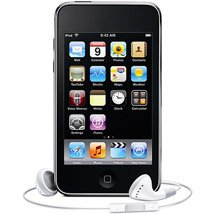 Let me put the description of iPod Touch 32GB
iPod touch features the same multi-touch screen technology as iPhone. Pinch to zoom in on a photo. Scroll through your songs and videos with a flick. Flip through your library by album artwork with Cover Flow. Watch your movies, TV shows, and photos come alive with bright, vivid color on the 320-by-480-pixel display. Browse the web using Safari and watch YouTube videos on the first iPod with Wi-Fi built in.
iPod touch lets you enjoy everything you love about an iPod, and then some. Watch your movies and TV shows on a brilliant 3.5-inch display. Use the revolutionary Multi-Touch interface to flick through your music in Cover Flow. And anytime you're itching for more entertainment, just tap iTunes to browse and buy on the fly.