I bought a Wacom Bamboo Pen, which can be used for drawing, painting on computer.
At Staples Canada, it is $69.99 after $20 discount. So I paid $79.39 with tax and recycling fee.
I don't even know it has recycling fee until I saw the receipt.
Features
* 512 levels of pressure sensitivity on the pen tip for natural pen and brush strokes
* Battery-free, ergonomic pen with two programmable switches
* Textured work surface for a pen-on-paper feel
* Attached fabric pen loop conveniently secures pen
* Easy USB connection
* Included in the package with every Bamboo Pen:
o Corel Painter Essentials 4.0 (Win and Mac) for creating natural media art and turning photos into digital paintings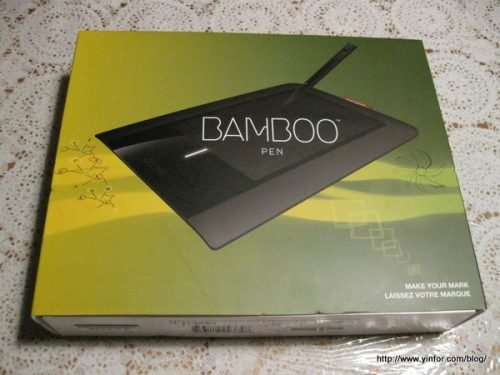 Tablet Specifications
Tablet Dimensions (WxH) 9.8″ x 6.9″ (249mm x 175mm)
Active Area (WxH) 5.8″ x 3.6″ (147mm x 91mm)
Pressure Levels 512 on Pen Tip
Resolution 1270 lpi
Max Data Rate 133 pps
Accuracy +/- .02 in (+/- 0.5 mm)
Tablet Weight 12.8 oz
Connectivity Standard USB
Orientation Reversible for right- or left-handed users
System Requirements
PC Windows 7, Vista or XP with Service Pack 2
Mac Mac OS X (10.4.8 or higher)
Hardware Also requires color display, powered USB port, and CD/DVD drive
The content of box is including a tablet, a pen, one installation disk and one software disk.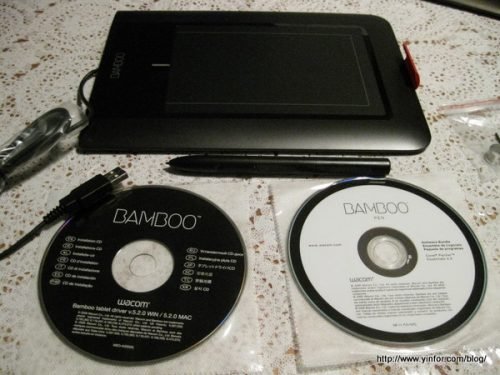 I connected it to a Windows 7 PC. Installed the driver and Coral Paint Essential 4 English version. It did includes different language editions.
Bamboo Pen Official site here.