When Google first launched Google Pack referrals in May 2006, it is only available to USA publishers. Just noticed from Jensence's Blog, Google Pack is also available in Canada. Great news.
I login the Google Adsense, and find more countries' publisher can use this referral. Including Traditional Chinese, Dutch, French, German, Italian, Japanese, Korean, Portuguese, Spanish and English.
I still remember Google Pack was only six software inside.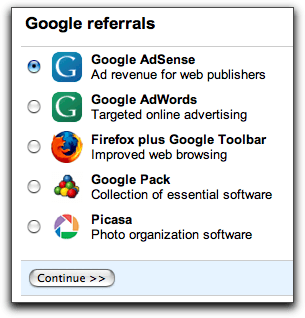 Today, Google Pack has:
Four Google software, Google Desktop, Picase, Google Toolbar for IE and Google Pack Screensaver.
Four Additional software, Mozilla Firefox with Google Toolbar, Ad-Aware SE Personal, Norton AntiVirus 2005 special Edition and Adobe Reader 7.
And two more optional software, RealPlayer and GalleryPlayer HD Images.
It looks more and more software will be added into Google Pack. Maybe sometime it will replace the windows installer.
Update: Google Blog has this news