Windows monthly updates come again.
This month four updates are issued to Windows OS family.
Three issues work for Windows Server 2003.
MS06-040: Vulnerability in Server service could allow remote code execution
Error message when you try to update a Microsoft Windows-based computer: "0x80070002"
MS06-053: Vulnerability in Indexing Service could allow cross-site scripting
The other one is The Microsoft Windows Malicious Software Removal Tool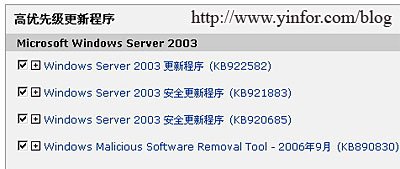 Keep your Windows updated is the most important to protect your computer from attacking and worms.