Google Earth is a so interesting free tool I used so ofter. So I check if it has a update regularly.
It is a celebration for first anniversary of Google Earth. It is Beta 4
I downloaded Google Earth 4 beta in July. It is 4.00.1693.
I knew Google has new beta with some new features from someone's blogs. I want to check the update in the Google Earth. It popped up a windows say, "There are no updates available at this time." I can not update it throught the update facility included.
Now I went to Google Earth website, and download the New Beta 4 and installed it in my computer.
I checked the About information. It shows me 4.0.2080.

Let's talking about the features implemented in this update.
Japanese language support (Japanese version is available here – earth.google.co.jp )
Layer data for Japan, including countrywide 3D buildings
Featured content layer (now available in all versions)
A new interface for viewing time-stamped /time-range image overlays
Improved printing option for turn-by-turn driving directions with satellite imagery
New KML folders options with radio button style placemarks (under my places)
Support for Hi-definition (HDTV) movie output (Pro version only)
Support for Web Mapping Service(WMS) image/data overlays (now in free version too)
Universal Transverse Mercator (UTM) coordinate system grid overlay
I really like the the featured content layer, which is now available in all releases of Google Earth. Google will rotate this information over time.
There following featured content as below:
National Georgraphic Magazine *
Discovery Networks World Tour *
US National Parks
Jane Goodall's Gombe Chimpanzee Blog
UNEP: Atlas of Our Changing Environment
Turn Here: City Video Guides *
* These featured content is great.
To see these featured content, you must turn on them in the layers control panel.
Let's see what I saw today.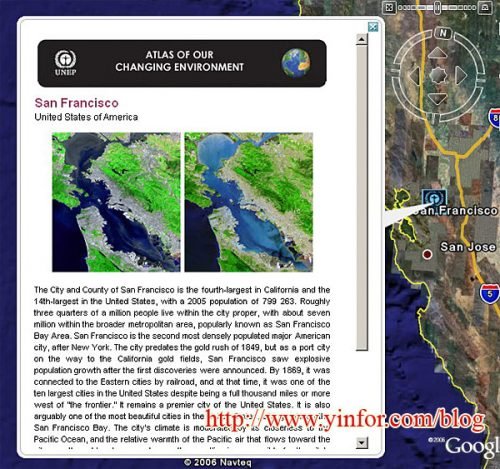 This is under UNEP: Atlas of Our Changing Environment