In the second week of the every month, Microsoft will release the Update for Windows. Sometimes comes with office update.
If you use the Windows Update link in the IE, you may not get all the updates, but part of them. The updates not included in the WGA will be download and installed in your Windows XP.
But you still want to get all updates, and you searched and searched in the web. Nothing found.
OK, let me show you some way to pass the WGA and get all the UPDATES.
In Control Panel, System properties, under Automatic Updates Tab.
You can choose Automatic(recommended), every day.
Windows automatic update use the different way then Windows update through IE. The later one will ask for the WGA. The first one does not.
This is what I want to tell you how to bypass the WGA to get completed updates.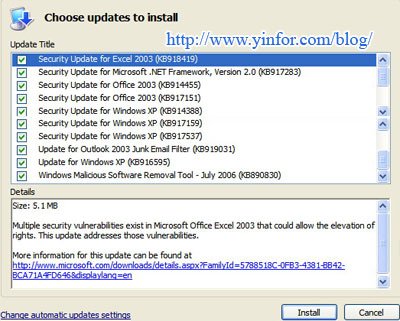 If you have WGA spyware, check Remove WGA Notifications here.