CityVille was introduced by my friend. She knew I like to play SimCity style games. So when I start to play CityVille, I can not stop.
I spend a lot of time on this game. See my current status of City of David Yin.
CityVille is a wonderful game. I like it.
If you have never played it, just try it.
If you try it, you will like it.
If you like it, you can not stop playing.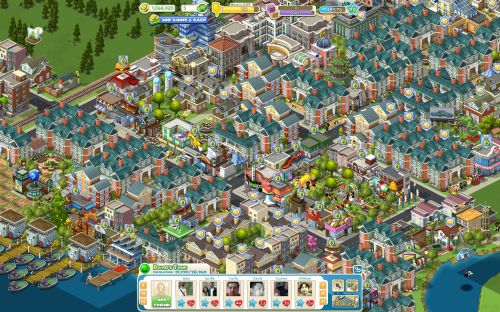 This is only half of my City.
The tips to expend your city are very simple. I would like to share my experience.
1) Check your city regularly. At least 4 hours a time at daytime.
2) Farming is best to use 1 day corn, 2.1 days wheat, and 3.1 days peas. If there are no task to harvest others.
3) Use City sidewalk to connect buildings, which can save space for building.
4) Click your neighbors post on the Game, when you give your gift, you get one as reward.
5) More friends, more neighbors. This is the key to make your city expending faster.
I have more than 40 neighbors on CityVille.
If you need fiends on CityVill, please add me. I like to have more friends on CityVille and you will have an active neighbor too.
Click below to add me.
David Yin


Create Your Badge