Ubuntu is sponsored by Canonical Ltd. They provide free cds including live version and install version, each one has PC, 64-bit PC, and Mac distributions. Not only free CDs, but also Free shipping and handling.
Just go to the ShipIt site and send your request online. The CDs will be mailed to you.
I send my request on 2005-09-29 and received it today.
Because of I ask for the 5.10 version, which is released on October 13, 2005, a lot of requests from all around the world. This delay is reasonable.
I ordered 5 sets of PC version and 4 sets 64-bit PC version because I would like to share some with my friends.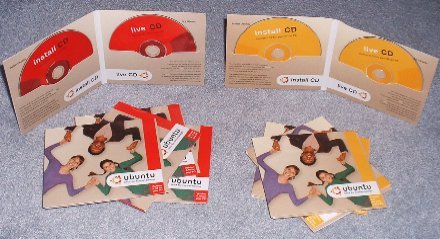 It is great.
Update:
Please noted, I am not associated with Canonical, and I can not give you free CD. If you want it, please go to ShipIt site to order. Don't leave the message to ask for CD to me.
2007/4/25