Ubuntu is a good Linux distribution. It can be download freely, and it can be mail to your home by ShipIt free of charge.
Last time, I ordered Ubuntu 5.10. It took about 52 days to my home.
This time they provide up to 10 CDs. I think they know the 64bit machine is not so popular, so that provide max. one 64-bit PC verison CD only per shipment.
I ordered 10 Ubuntu CDs including 8 PC Edition, 1 64-bit PC Edition, 1 Mac Edition. I will give some PC Edition to my friends.

The PC Edition will run on almost all PCs. This includes Intel x86-based systems like Intel Pentium and AMD Athlon. Choose this if you are unsure.
The 64-bit PC Edition will run on computers based on the AMD64 or EM64T architecture (e.g., Athlon64, Opteron, EM64T Xeon).
The Mac Edition will run on Apple Macintosh G3, G4, and G5 computers including iBooks and PowerBooks.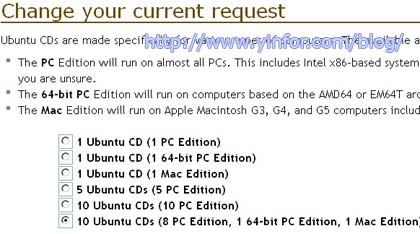 Because I want a PC edition and a 64-bit PC edition, and I don't want to make two orders to waste money. I order the last one.
They said it will begin shipping in early June. Once shipping starts, it can take up to 6 weeks for you to receive delivery.
Waiting, waiting, waiting.