Recently, I found the AMP page of this blog is not working. After checking the web log  error file, the error looks like below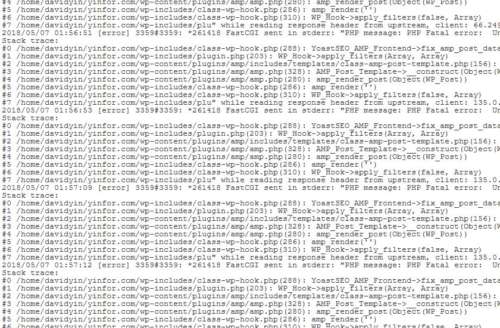 If you Google it with wp-content/plugins/glue-for-yoast-seo-amp/classes/class-frontend.php:162
A lot of search results with the same problem.
Based on the Yoast SEO support page, it said it is AMP plugin fault.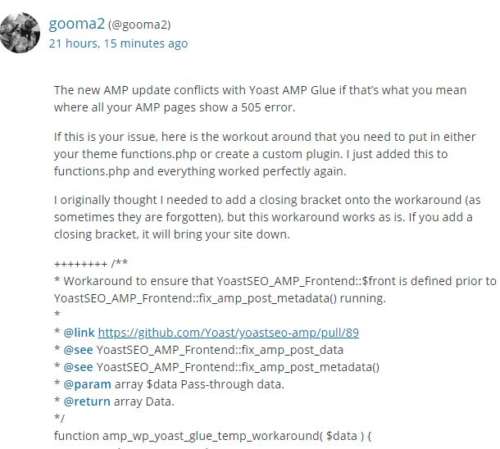 gooma2 provided a workaround, I tried it. It does not work for my blog. All my blog's AMP pages are 505 error.
Then, I disabled the Yoast SEO plugin, removed it. Installed All In One SEO plugin.
I used All In One SEO before. Simple and easy to use.
Features of All In One SEO
XML Sitemap support – submit your sitemap to Google and Bing and improve your SEO
Image XML Sitemap submitted to Google and Bing to improve your Image SEO
Google AMP support (Accelerated Mobile Pages)
Google Analytics support
Support for SEO on Custom Post Types
Advanced Canonical URLs
Redirect attachment pages to parent post
Automatically notifies search engines like Google and Bing about changes to your site
Built-in API so other plugins/themes can access and extend functionality
ONLY free plugin to provide SEO Integration for e-Commerce sites, including WooCommerce
Nonce Security built into All in One SEO Pack
Automatically optimises your titles for Google and other search engines
Generates META tags automatically
Avoids the typical duplicate content found on WordPress blogs
For beginners, you don't even have to look at the options, it works out-of-the-box. Just install.
For advanced users, you can fine-tune everything to optimise your SEO
You can override any title and set any META description and any META keywords you want.
Compatibility with many other plugins
Translated into 57 languages
PHP 7 100% Compatible