I have a Acurite Wireless Weather Forecaster since 2013. The outdoor monitor is dead. The reading of temperature  outdoor is 17 celsius degree, but actually it is only 3 celsius degree. I tried to use new battery, reset the device. Nothing works.  Even the indoor data is correct.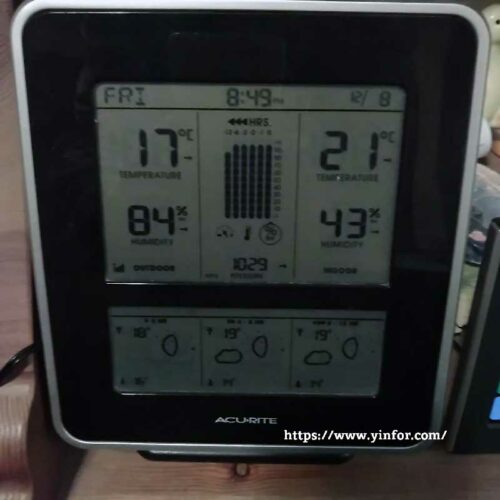 OK, I have to get a new one. One day before Christmas, I bought a new device at Costco.
Acurite Weather Station with Colour Display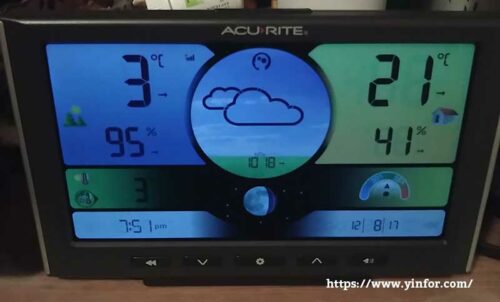 The model number is #02099
DISPLAY
Dimensions: 5.5-inch Height x 7.6-inch Width x 0.6-inch Depth
Time ZonesPST, MST, CST, EST, AST, HAST, AKST
Indoor Temperature Range: 32º to 122º F, 0º C to 50º C
Indoor Humidity Range: 1% to 99% RH
Data Reporting Indoor data: 60 second updates
Power: 5V AC adapter
---
TEMPERATURE & HUMIDITY SENSOR
  Outdoor Temperature Range: -40 to 158 degrees Fahrenheit, -40 to 70 degrees Celsius
  Outdoor Humidity Range: 1 to 99% Relative Humidity
  RF (wireless) Range: 330 feet (100 meters)
  Data Reporting: 16 second updates
  Wireless Frequency: 433 MHz
  Power: 2 AA alkaline or lithium batteries; Lithium batteries recommended for temperatures below -4 degrees Fahrenheit / -20 degrees Celsius
It has backlight all the time when the power adapter connected. Three different lighting settings: 100% brightness, 60%, 15%.
I feel even 15% brightness is too bright in darkness. One trick is to pressing and holding the light bulb button for 5 seconds will disable the backlight.
Weather forecast:
It takes at least 14 days to collect data. Then the self-calibrated pressure is tuned in to the location and the unit is ready for superior weather predication.
The weather forecast provides the users personal forecast of weather conditions for the next 12 to 24 hours by collecting data from the sensor outdoor.
I bought it in December. More than one month ago. About $39, if my memory is working normally.