I posted the test on my blog, but I have not recorded the purchasing.  When I traveled to San Francisco, I will visit a computer store, Central Computers at downtown San Francisco. It is near my parents-in-law's house. Compare with the price in Canada, it is cheaper and less tax.
Crucial MX300 275GB is the smallest SSD in MX300 series.  There are also 525GB, 1TB, and 2TB.
The price on 275GB SSD box is US$75.95. Actually, it is on a sale of Back to School. The price after discount is $65.95. Sale tax is 8.75% in California. Total is US$71.72.
Let me check the price at NCIX.com.  Regular price is $109.99. It is CAD$99.99 now. Sale tax is 12% in BC. Total is CAD$111.99.
Do a calculation. 1 US Dollar equals to 1.28 Canadian Dollar. So US$71.72 = CAD$91.80. I saved 19% on it.(91.80/111.99 = 81.97%)
Look outside and inside of Crucial MX300 275GB SSD.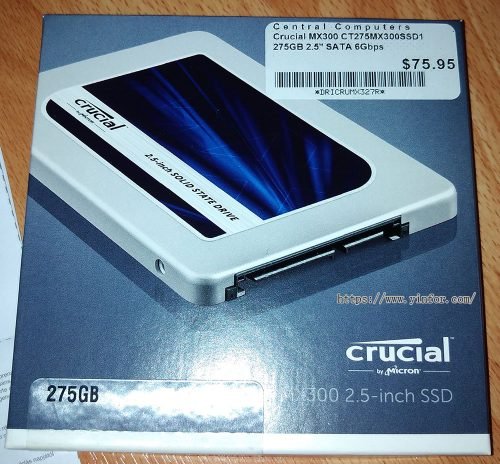 The items inside are one 2.5 inch SSD, one 7mm to 9.5mm spacer, Acronis True Image HD certificate.
Crucial MX300 SSD 275GB has following features:
Capacity: 275GB
Part Number: CT275MX300SSD1
Sequential Read MB/s: 530
Sequential Write MB/s: 500
Random Read IOPS: 55k
Random Write IOPS: 83k
Dynamic Write Acceleration: Support.
( From Crucial website.)