I traveled to San Francisco last week. Crucial new SSD MX100, 256GB is a good deal, when I went into a computer store in downtown. The special price is $99.95 plus tax is $108.70.
The original price on price tag is $109.95 in US dollar. In Canadian Computer Store, say NCIX, it is 119.99 after $10 saving now, of course adding tax is about $134. It is a big saving, about 20% less in total.
So, I purchased it there and brought it home and installed it in my desktop.
Have a look firstly.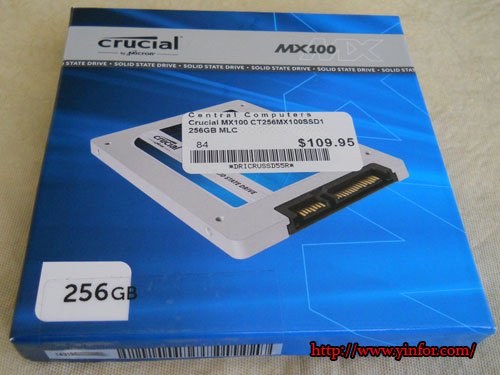 Look at inside the box.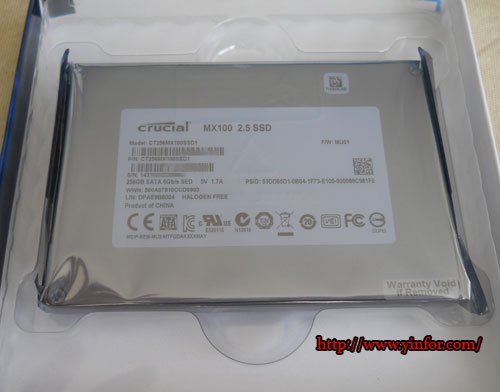 Let me put the specs below for reference:
Form Factor: 2.5-inch internal SSD
Module Size: 256GB
Specs: Crucial MX100 256GB SATA 6Gbps 2.5″ Internal SSD • 550 MB/s Read / 333 MB/s Write
Series: MX100
Product Line: Client SSD
Interface: SATA 6.0Gb/s
Part number: CT256MX100SSD
I have a HDD installed, which is also SATA III, or SATA 6Gb/s, harddrive. But the mobo is A55M-P33. It is only support SATA II, or SATA 3Gb/s.
It is a problem, but not a big problem. I can still install the hdd into my desktop. It is just running on SATA II mode.
Crucial MX100 256GB SSD is shipped with a software, Acronis TrueImage 2014. It is a system software, which is used for backup, recovery, migration, etc. So I use it to clone my Windows 7 system from HDD to SSD. I am not describe it in details here. It is quite simple, just make a Acronis 2014 bootable disk and boot the pc with it. Choose Clone Disk function to complete this task.
Now, I can feel the speed benefit from this SSD when I boot the PC. I can feel how fast program opening. I will do some SSD test later and post the results here.