The Top 10 Search Queries for past 12 months of this blog:
shaw remote codes
dns-323 firmware
how to program shaw remote
philips universal remote
dns 323 firmware
program shaw remote
telus bundles vs shaw bundles
ubuntu install perl modules
kdbsync.exe error
shaw bundles vs telus bundles
These search queries are retrieved from Google Analytics.
Another source of Keywords are from Google Webmaster Tools. The following top 10 keywords are based on the past three months search in Google.
philips universal remote
ati auto detect
dlink wifi
shaw remote
dns-323 firmware
linode ssd
program shaw remote
dns 323 firmware
philips universal remote codes
ati autodetect
There are one wired keyword I don't know why it is located on my site.
"tner-zoho.i-dynamics.com"
I think it is a part url of http://partner-zoho.i-dynamics.com/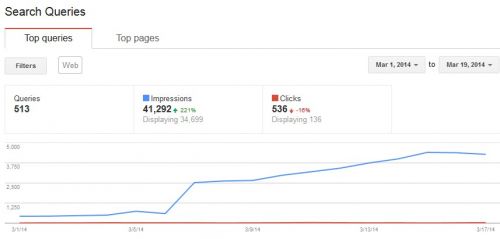 Do I have post anything about zoho? The answer is YES. I wrote a post in July last year, Zoho gives Small Business a CRM