I went to Costco store yesterday. Just a quick look at the PC department. I decided to buy a new monitor for me and my old one will be my wife's. Then my wife's 17″ LCD will be used by Grace.
It is Acer X223WBD, 22″ wide screen monitor.
Specification:
Pixel pitch: .282mm
Brightness: 300cd/m2
Contrast: 2500:1(ACM)
Viewable angle: 170 degree
Response time: 5ms
Max resolution: 1680X1050 @60Hz
Input Connector: D-Sub, DVI-D 24pin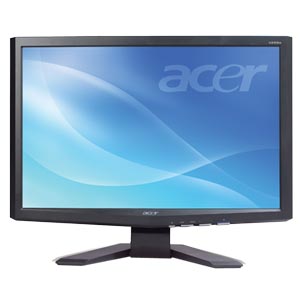 The price is 199.99 online. The store price is 199.99 – 20.00 (coupon) = 179.99
The final price is 199.99-20+12(Electronic equipment Fee) = 191.99, plus tax is $215.02.
After that, I install another desktop for Grace. She is Grade 3 now.
She shared a Compaq desktop with Vivian and Gloria before. Grace is doing a lot of writing on computer. So I give her a desktop for her own use.
I spend almost 4 hours to establish it. Download Ubuntu 8.10 desktop OS and Edubuntu Addon. Install whole new system with Edubuntu. It has a lot of programs for kids.