I bought a LCD monitor, Acer 1716B, last week.
The following is its specifications:
Display Panel: 17″ color active matrix LCD (TFT)
Resolution: 1280 x 1024 Native
Contrast Ratio: 700:1
Brightness (Typical): 300 cd/m2
Viewing Angle (H/V): 150/135
Cabinet Color: Black
Video Inputs: Analog RGB, DVI-D
Environments: PC compatible
Warranty: Three Year Covering Parts and Labor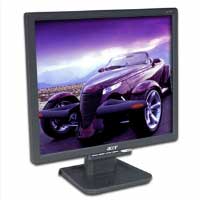 I got it from Costco, a wholesale store based on membership.
Priced $249.99, plus tax. It is about twenty bucks expensive on the computer retail store.
When I open the box, plug it and turn it on, I feel the screen is too bright. I checked it and found the default bright setting is on top, 100. I adjust it to 55 to suit the environment.
The text is clear. I played some video. All OK.
To compare with the price and quality, I feel it is not best, but good enough.
I recommend Acer Al1716B to LCD first time buyer, regular user.