Destinia is a very famous travel agency in Spanish. It has a lot of facilities to help user to find a hotel right for him. Look, it has a catalogue with more than 150.000 hotels in countries all over the world. It is a big database.
Now Destinia introduces in English market. English is the most used language in the world. So it open the biggest door to the people want to search a good deal of vacation.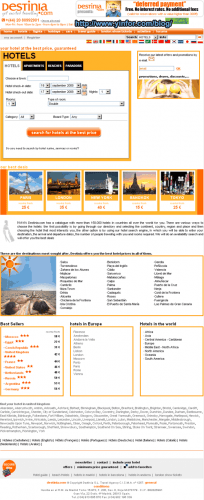 The price of the hotel Destinia recommended is reasonable.
The best deal of Paris is GBP25. GBP35 for London, GBP40 for New York, GBP25 for Tokyo, and GBP15 for Bangkok.

For the people who likes travel, he can subscribe the email to receive the offers and promotions from Destinia.
Let me do a search to see how the site provide.
I entered San Francisco, CA as destination. From Oct, 16 to 21, 5 nights. Double plus 2 kids.
It gave me 3 results. Let's see the details.
1) Touchstone Hotel
Touchstone Hotel – Geary Street, 480 – San Francisco – California – (United States)
The hotel has 42 comfortable rooms. Both, smoking and non-smoking rooms are available. Three entire floors are dedicated to non-smoking rooms.
The en suite rooms are comfortably equipped with direct dial phone with voicemail, and cable TV.
Total Breakfast incl.: 633.60 EUR
2) Monticello Inn
Housed downtown in a landmark 1906 building near Union Square, the historic Monticello Inn offers guests the gracious atmosphere and style of Thomas Jefferson's colonial Virginian home, in the heart of San Francisco. Guests staying at this boutique hotel near Union Square will find the charm and traditional classic values of an elegant colonial inn.
All 91 boutique rooms offer a writing desk, hairdryer, iron/board, cable TV, Nintendo and plush Monticello bathrobes. Complimentary wireless internet access is also available.
Guest are able to use a local fitness center for a 15 USD per day fee.
Total Meals not included: 953.10 EUR
3) Adagio
No detailed description of it.
1087.55 EUR
And also some words about it is not in English.