Craagle is a small tool, a search tool specialized on all kinds of software cracks, serial keys and DVD covers.
I doing some search by Search Engine. Lots of results came.
The problem was when I tried to download it, my Symantec AntiVirus always reported something wrong and deleted the file.
What's wrong about this file?
OK, I went to the Symantec site and see how risk it is.
Updated: October 25, 2007 4:20:50 PM
Type: Potentially Unwanted App
Name: Craagle
Version: 1.9.0.0
Risk Impact: Low
Systems Affected: Windows 98, Windows 95, Windows XP, Windows Me, Windows Vista, Windows NT, Windows Server 2003, Windows 2000
When the program is executed, it creates the following files:
%CurrentFolder%\craagle.ini
%CurrentFolder%\proxy.txt
The program helps users to query search engines for software cracks, serial keys, and DVD covers.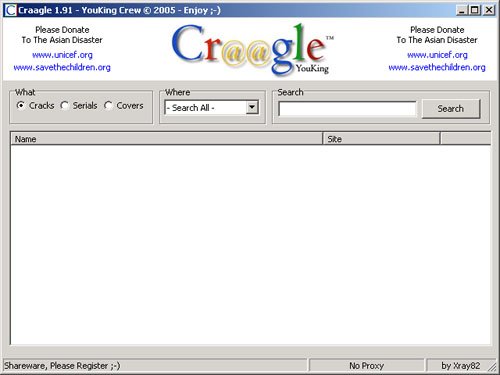 It is clear, Craagle is not a virus or spyware. It is a search tool only.
It is wonderful tool. When you want to try some software for a while, I suggest you use this tool to get what you want.
The link I tested safe is here.
Oh! I almost forget the purpose of this post.

To download this file without interrupting by Symantec, I have to disable Symantec AV temporarily.
Download the file and save it into a special folder, which I put it in the exception list of Symantec AntiVirus.
After above, I enable the Antivirus program again.