I do a lot of search every day. From Google, Yahoo, Bing, to some vertical search engine. Each search engine has its own power.
Today, I would like to introduce one of the file search engine. You know, there are a lot of file storing, file sharing sites. Such as uploading.com, rapidshare.com, etc. You can do the search on every site mentioned above, but can not do one search including all the sites without the Search Engine I introduced here.
It is General-search, one file sharing search.
Say, I want to look up the ebook, "Webbots spiders and screen scrapers".
I enter the file search engine web address into firefox. Put the book name into the search box, click search.
It return four results as below.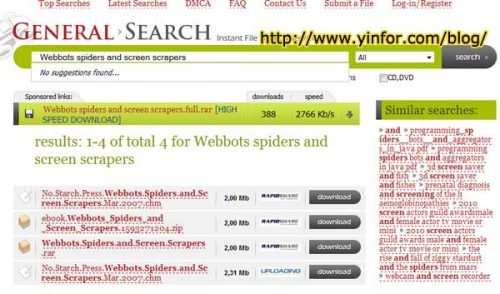 From the four results, I click the Download button. It lead me to the result page. The page has alternative sponsored link, and download button, Click the download button, will go to the file download page on file sharing site.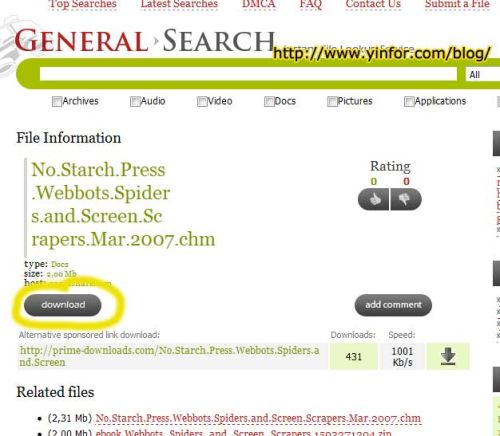 Look the yellow circle above.
I tried these four results. The first two files are removed. The third is OK, and the fourth is OK.
Even more search results on the search results page. There are still some chances the file was removed due to any reason.
Do not worry, try them one by one. You will get the results you want, and get the file you need.