I mentioned about spammer want to send spams through my email server. I have to ban some IP address range.
It is very easy to config it in hMailServer administration interface.
The following image is the screen shoot after setup.
Please notice the IP range:
Ban IP 1: 61.64.64.0 – 61.64.255.255
Ban IP 2: 61.62.4.0 – 61.62.11.255
These two IP ranges are subset of the IP address of So-Net. I just banned part of their IP.
The default setting is accept all IP address with priority 10.
I added these Ban IP with priority 30. So I don't need to change the default IP address range.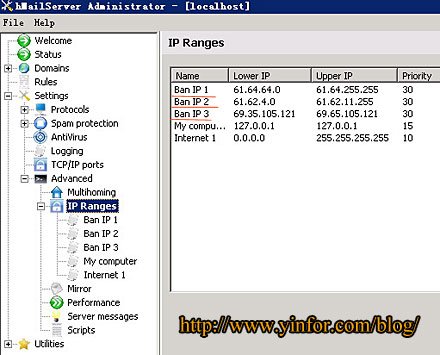 You must be noticed that a special IP address. It belongs to Defender Technologies Group, LLC. I think it is a ISP or hosting company in USA.

I will keep my eyes on the log files. If any spammers want to use it I will ban their IP address without comments.