I installed hMailServer as my Email server last week. Let me keep a log of my installation.
Step 1.
Download hMailServer from the official site. The latest stable version is hMailServer 4.3 – Build 248. Download here. File size 3,568KB.
Setp 2.
Install hMailServer by double-clik the file downloaded to launch the setup.
The package has a built-in MySQL database. Because I have a MySQL server running on my Windows 2003 server, I select to use an external database.
After installation, run the hMailServer Database Setup wizard.
And I set a password which will be needed later.
Step 3.
I use external MySQL, so I have tu run the appropriate script from the hMailServerAddonsService dependencies folder. It is located on the installation folder.
Step 4.
DNS configuration.
I set it up already. Just MX record.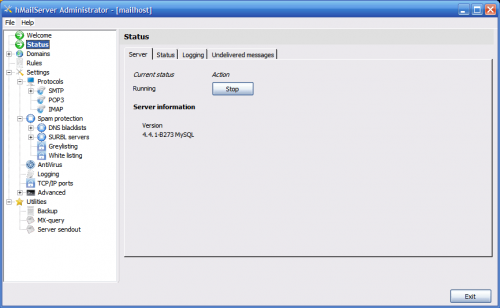 It looks very simply.
The complete official online installation tutorial is here