It is easy to get an A+ on your website. But it is a little bit hard to make a 4 parts, Certificate, Protocol Support, Key Exchange, and Cipher Strength, to be 100%.
Most of time, I got A+ rating of my site. For individual scores, the last two are 90%.

Let me break down.
Certificate
It is preaty easy to get 100% here.
Make sure your certificate and intermediate certificate and CA are in the correct order.
Don't use SHA1 for the signature algorithm. Use SHA256 instead. Actually all main CA are using SHA256 now.
Use a trusted CA. Do not use WoSign, StartCom.
Protocol Support
SSL 2.0 0%
SSL 3.0 80%
TLS 1.0 90%
TLS 1.1 95%
TLS 1.2 100%
So it is best to just use TLS 1.2.
Key Exchange
Make a strong DHE (Ephemeral Diffie-Hellman) paramaaters.
openssldhparam -out /etc/nginx/ssl/dhparam.pem 4096


It is not enough. Add following into Nginx settings.
ssl_ecdh_curve secp384r1;
Cipher Strength
0 bits (no encryption) 0%
< 128 bits (e.g., 40, 56) 20%
< 256 bits (e.g., 128, 168) 80%
>= 256 bits (e.g., 256) 100%
So I just use 256 bit cipher suites.
Here is a test site, I tried it today, 2018-08-11. It is A+ with four 100% scores.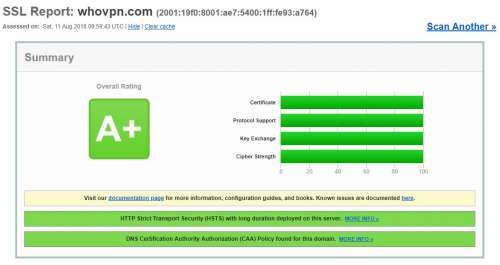 Here is the most important part of Nginx config file. I put them all together.
ssl_certificate /etc/nginx/ssl/whovpn.com/fullchain;
ssl_certificate_key /etc/nginx/ssl/whovpn.com/key;
ssl_session_timeout 10m;
ssl_session_cache shared:SSL:10m;
ssl_session_tickets off;

ssl_dhparam /etc/nginx/ssl/dhparam.pem;

# modern configuration. tweak to your needs.
ssl_protocols TLSv1.2;
ssl_ciphers 'ECDHE-ECDSA-AES256-GCM-SHA384:ECDHE-ECDSA-CHACHA20-POLY1305:ECDHE-ECDSA-AES256-SHA384';
ssl_prefer_server_ciphers on;

ssl_ecdh_curve secp384r1;

# HSTS (ngx_http_headers_module is required) (15768000 seconds = 6 months)
add_header Strict-Transport-Security max-age=15768000;

# OCSP Stapling ---
# fetch OCSP records from URL in ssl_certificate and cache them
ssl_stapling on;
ssl_stapling_verify on;

 

## verify chain of trust of OCSP response using Root CA and Intermediate certs
ssl_trusted_certificate /etc/nginx/ssl/whovpn.com/fullchain;

resolver 8.8.8.8;