It said: This application failed to start because it could not find or load the Qt platform plugin "windows" in "". Reinstalling the application may fix this problem.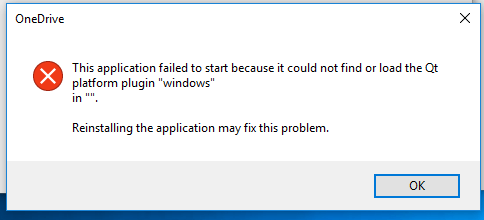 My current Windows 10 is version 1703, OS build 15063.674.
I knew OneDrive is the builtin with Windows 10. It can not be uninstall like a normal program.
After a little bit search, I found the answer, or solution of the error.
run
%userprofile%\AppData\Local\Microsoft\OneDrive\Update\OneDriveSetup.exe
After a brief re-installation, the app icon will show in my taskbar notification area as normal.