When you want to bring your own device to Fido mobile, what kind of device is good for you?
There is some information you need to know.
Fido Mobile is one of the third service providers.
Rogers wireless, Fido, Chatr
Bell Mobility, Virgin Mobile, MTS Mobility
Telus Mobility, Koodo Mobile, Public Mobile
There are also some small one, such as Freedom Mobile, SaskTel Mobility, etc.
Fido plus two other sister brands, Rogers and Chatr, has over 10 milion. subscribers. The No 1 in Canada.
Fido Network:
2G Network: GSM 850/1900, GPRS 850/1900, EDGE 850/1900
3G Network: HSPA+ 850/1900,  UMTS 850/1900, HSDPA  850/1900, WCDMA 850/1900
4G Network: LTE B17 (700Mhz) / B4 (1700/2100Mhz) / B7 (2600Mhz)
Fido Connection icon display



When 4G connected, I did a speed test.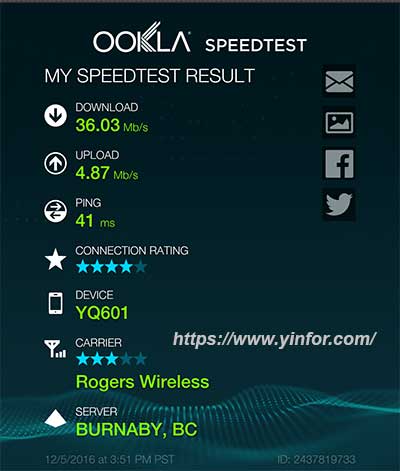 Fido has LTE 1700 first.  Now it starts to enable other bands, including 700 and 2600,  to whole Canada. That is why my cell phone, YQ601, does not always get LTE, or 4G connection. Because YQ601 has 2100/1800/2600 only.
How to setup your own Android cellphone?
Tap on Settings > Wireless & Networks > Mobile Networks > Access Point Names;
Once on the APN screen, press the Options button on the device;
Tap on New APN
Enter a name into the APN Name field.
Please insert the following APN settings:APN Settings:

APN: Fido-core-appl1.apn
If you have an LTE device, use the following setting: LTEMOBILE.APN

MMS (Picture & Video Messaging Settings):

Leave the following fields blank: Proxy, Port, User Name, Password, Server
Press the Options button on your device, tap on Save in order to save the APN settings.
Restart the phone and try browsing the Internet.