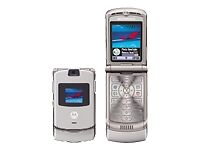 I will have a vacation in China. So I would like to have a local GSM card and still use my Fido Motorola V3 cellphone.
As I know, all Canadian cellphone companies lock the phone they sold. Clients can not use the cellphone with another company's GSM card without unlocking.
After doing a search, I find a service provider on Ebay.
Seller: unlockgsm4u
The feature service is unlock code ROGERS/FIDO Motorola V3 K1 W510 V9 Q9 L7 L2
Great. It is right for me.
I order the service and put the information in the message.
Including Network: ex) Rogers / Fido, Model of phone
IMEI Number: Your phone's 1st 15 digits IMEI
I paid $4.90 through Paypal.

It is very fast.
I got the unlock guideline and code in 16 minutes.
The code works, and I can use other company's GSM card in this V3.
You can pay $4.9 to get your Fido Motorola V3 unlock code here.