Instruction of Philips Perfect replacement Universal remote control SRC2063 6+3 combo pack. This is a guide to tell you how to program it, or how to choose the code for your TV, DVD, etc.
It is a combo pack. One SRP2003 for 3 different devices and one SRP2006 for 6 different devices.
Both remote controls work on TV, DVD players, Cable box, Satellite receiver, Blu-Ray player. SRP2006 can also work on VCR and DVR devices.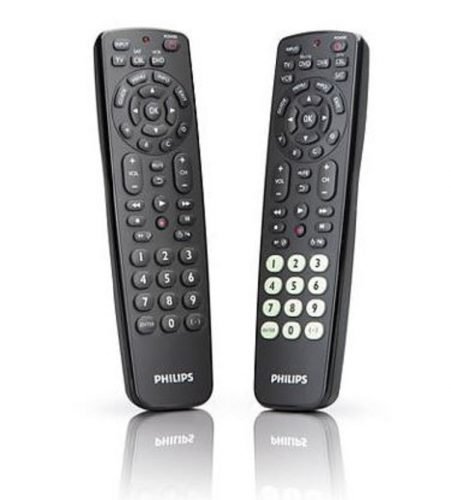 Here is an example show you how to set up the universal remote controls for TV.
1. Turn ON the TV manually or use the original remote control for it. Tune to channel 1.
2. Press and hold the "TV" device selection button for 5 seconds, until the red Setup light blinks. The remote control is now in setup mode for TV.
3. Look up the 4-digit code for your brand in the brand list at the back of the user manual. A 4-digit code is shown for each brand. Use the digit buttons to enter the code for your brand. If the red Setup light turns off, an invalid code was entered. In this case, try again.
4. Aim the remote control at the TV set. Press and hold the "Power" button. Release it immediately as soon as the TV turns off. This step normally takes between 5 and 60 seconds. In extreme circumstances this step can take up to 15 minutes.
5. Turn On the TV. Try out the buttons that you need for operating it. Try for example if the CH +- and digit buttons function properly. If a button does not work as expected, press and hold that button. Release it immediately as soon as it works.
6. Press the "TV" device selection button twice to finish setup. When no button is pressed for 5 minutes or more. the remote control will exit setup mode. automatically saving all your settings.
The Manual of SRC2063, Brand list for all device.
Download the manual of SRC2063  src2063_27_dfu_eng