I bought a new Philips Universal Remote Control at Wal-Mart this afternoon to replace the old RCA TV control.
The old one is still working except the volume up button. It is need 4 AAA batteries.
I tried my best to fix this button including open the controler and cleaning. All failed.
I saw the Universal Remote Control is about $9 with 3 devices, such as TV, VCR/DVD, Cable/Sat. This 3 devices controler has lowerst price. Some 4 or 5 devices may double the price.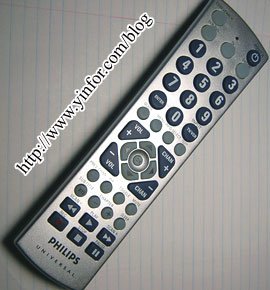 When I install the batteries and try to search the code, firstly I did not success with the direct code entry.
It has a list of codes for different brand devices.

I have to try the second way by programming with code search. It is much easy.
1) Manually turn on the device (TV, DVD) to be controlled.
2) Press and hold code search button until the red indicator stays on. Release the code search button.
3) Press and release the desired mode button (TV, DVD,etc)
4) Press the Channel Up button repeatedly (up to 300 times) until the device to be controlled changes channel.
5) Press and release the Mute button to install the code.
This is a log for future use.
Update:
March 26, 2007
As agreed I post a menu of code in the post