I bought a Kobo about two years ago for my elder daughter, Grace. Last week I saw the black Friday deal from Chapters. Kobo Mini at $49.99, original price is $79.99. So I called it a great deal.
It is smaller. It can be put inside pants pocket. Reading is good habit for kids. Grace has a big one, small Kobo Mini is good for here little sister, Gloria.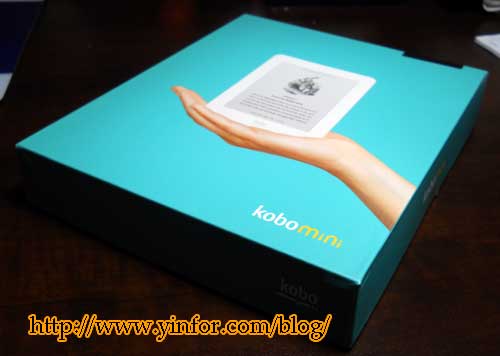 It is very small, and light. Only 134g. But the capacity is 2GB. You can put a lot of books in it.
The technical specs:
Size
102 x 133 x 10 mm (4 x 5.2 x 0.4 in)
Weight
134 g (4.73 oz)
Processor
800 MHz processor
Display
5″ E Ink touchscreen; Vizplex V110 display; 16-level grey scale
Screen
Responsive touchscreen for glare-free, fingerprint-resistant reading
Buttons
Power on/off
Connectivity
Wi Fi 802.11 b/g/n and Micro USB
Storage
2 GB*
Battery
Over 1 month with Wi Fi turned off.**
Supported File Formats
Books: EPUB, PDF and MOBI
Images: JPEG, GIF, PNG and TIFF
Text: TXT, HTML, XHTML, and RTF
Comic Books: CBZ and CBR
Colours
Available in black or white.
Three interchangeable backs are available for purchase: ruby, purple, and teal.
eBookstore

over 3 million eBooks, newspapers, and magazines. Over 1 million free titles.

Kobo Everywhere
Kobo eBooks are stored safely in the cloud — retrieve them at anytime. Bookmarks and settings are seamlessly synced across all your Kobo eReading apps and devices.
Social Reading
Includes Reading Life. Track your reading stats and share what you're reading, favourite passages, and Reading Life awards to Facebook and Twitter.
Kobo Picks
Brings readers personalized recommendations based on their feedback and preferences.
Fonts
7 font styles with 24 font sizes and exclusive weight and sharpness settings.
Open
Read almost any eBook on your Kobo Mini. Supports ePub and Adobe DRM.
Dictionary
Built-in dictionary.
Notes, Quotes
Highlight text, type notes, share to Facebook and Twitter.
Advanced Features
Library personalization, predictive search, brightness controls, double-tap PDF zoom in, SimpleTurn™ page turning.
Let us have a look inside.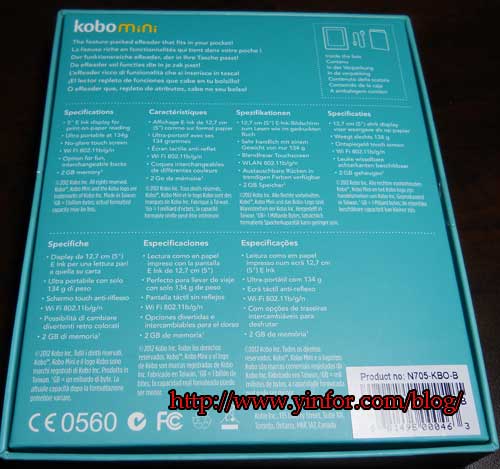 The back of the box.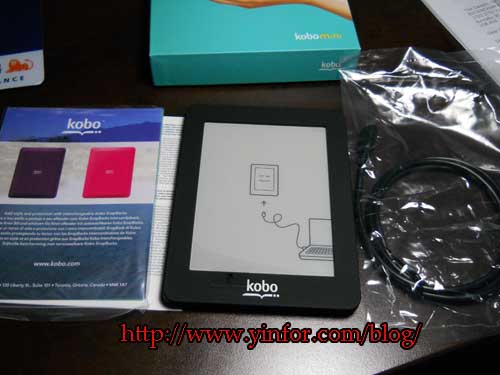 There only two items actually. Kobo mini device and a USB cable.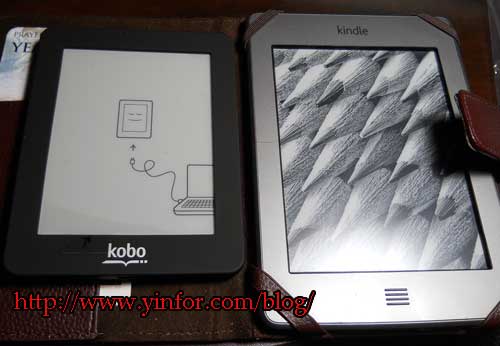 The Kobo Mini and Kindle Touch side by side.
This Kobo Mini is the Christmas Gift to my young daughter, Gloria.