I test the System Mechanic 10.8 on my Windows XP sp3 in my office. Installation is pretty simple.
It is one of the best PC tune-up / PC utility tools I used up to now.
First, speed is very important. If the loading speed of the tool itself is slow, I will have no confidence on its functions. System Mechanic has good loading speed.


Second, I do like all-in-one solution for this type of tools.
Fixes errors, crashes and freezes
Boosts internet speeds
Speeds up Windows start time
Restores system stability
Cleans out clutter and junk files
Prevents slowdowns and bottlenecks
Plugs security holes
Clears out private data
Improves gaming experience

I use it and find the following issues. Actually I used Advanced SystemCare 5 a few days ago.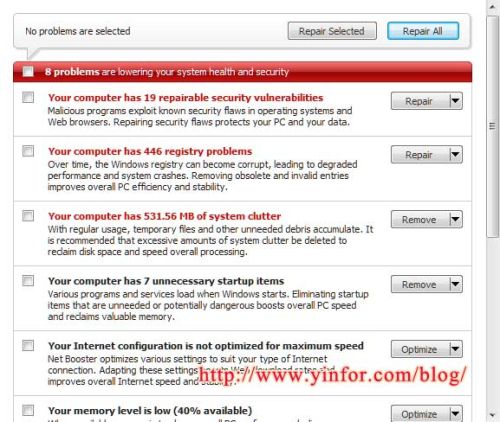 Fixing or repairing is also very fast. I like it.
I am also like the "Tune-up Definitions" idea. It is similar to the virus definitions for Anti-virus program. But the definition data file is too big. I recommend iolo to make incremental update to save the time and bandwidth.
Let me highlight some function I will use more often.
1) One-click-repair
It is simple and fast to save the time to maintain your PC.
2) There is automated tasks list, including update, clean-up, repairs
It make your maintenance job even simple.
3) Toolbox
Two set tools there. All-in-one tools is good, but I like individual tool more.
I can pick the specific tool to do the job, such as registry backup.
I can say it is a one-stop solution for you computer and do the job like a professional.
Download it and have your own road test. Buy System Mechanic 10.8 now