Got email from Dropbox. Which told me to I am a Dropbox Guru. There is a bonus for me. It is 3GB of Free extra space for next 12 months. So totally, I have 10.75GB space and already 50% full.
Dropbox is the No.1 storage tools, based on Feb. 2012 Website Magazine.
76% of respondents use Dropbox. Other storage providers included Time Machine (7%), Carbonite (3%), Box.net (3%), and Crashplan (2%).
My experience is Dropbox is the fastest tool to upload your file to cloud and your other computer. I am also use my smartphone (Android based) to access the file. Took the pictures and send to Dropbox directly.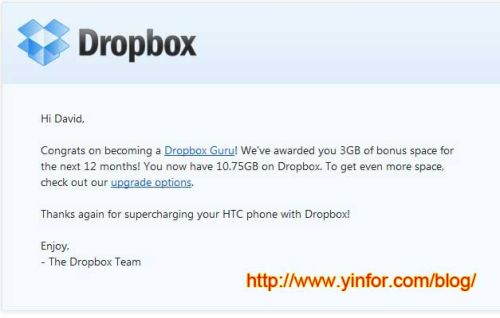 I have a shared folder with my parents in law. They live in San Francisco. They can see my young son's pictures just a few seconds after I took the pictures and save it into the Dropbox.
Click here to get your free space on Dropbox.