You may already know that my Blog is using Amazon CloudFront for images, CSS, js files. It can speed up my Blog.
But the problem is Amazon does not provide a handy tool. So I doing search and find one of the best programs.
CloudBerry Explorer for Amazon S3.
It works like a simple FTP client tool.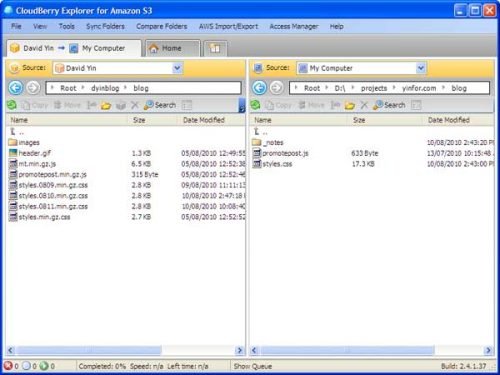 Advanced features:
* Encryption – make sure the data is always protected and only you can view it
* Compression – speed up copy process and save on storage and transfer cost.
* Chunking – break large files into smaller ones to speed up the process and make transfer more reliable.
* FTP support – copy files directly from FTP server to S3 bucket.
* Cache-control header support – save even more on transfer costs.
* GZip – yet another way to save on transfer costs.
* Custom http headers support
* Multi-threading – speed up the transfer of multiple small files

When I use it, it is good and save a lot of time for me.
No learning curve for it, no strange setting on it.
Look at the video which will show you how to download and install it.

Click here to get it, it worth.