Last week, I bought a Buffalo Nfiniti WIRELESS-N WZR-HP-G300NH at NCIX. It is $106.39 with tax.
This device is a router, wireless router, Access Point 802.11B/G/N Draft N Gigabit QoS USB NAS.
The features here:
  Designed to IEEE 802.11n Draft 2.0 specifications
  Wireless connections up to 300 Mbps*
  MovieEngine QoS feature to prioritize streaming traffic
  Built-in AirShare Storage USB 2.0 Port
  BitTorrent client
  Web Access remote Access
  Greater coverage compared to standard 802.11g
  Easy Setup with AirStation One-Touch Secure System (AOSS)
  Enhanced multi-level security with WPA2, WPA-PSK (AES, TKIP) and 128/64-bit WEP
  Simple Web Browser configuration, no drivers needed
  Includes external switch to change between router and access point modes
  Adjustable flip-up antennas
  True VPN End point
  Built-in 4-port Gigabit Ethernet 10/100/1000 auto-sensing switch for up to 4 simultaneous wired connections
  Built-in Gigabit WAN port
*300 Mbps is the maximum wireless signal rate derived from IEEE 802.11n draft standard 2.0 specifications. Actual data throughput and range will vary depending upon network conditions and environmental factors, including volume of network traffic, building materials and construction, and network overhead.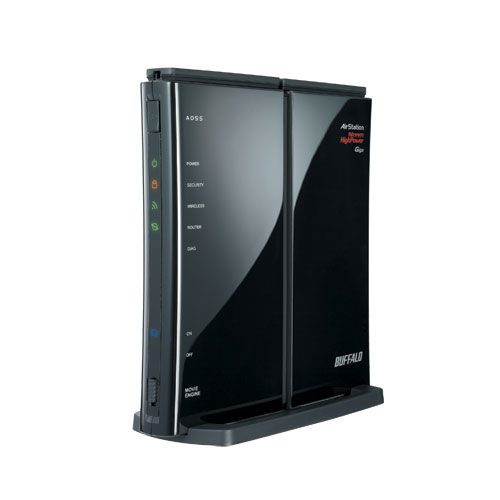 The key point to make me choose this router is because of the memory of it and CPU.
It has
Chipset Atheros ar9132
RAM 64 MB
FLASH 32 MB
The CPU is 400MHz. Faster then WRT54G's 240MHz
RAM is 64MB instead of WRT54G's 8MB
FLASH is 32MB, WRT54G has 2MB only.
Why I compare with WRT54G. Because I have WRT54G v8 and use it for one and half year. Now I found it is not stable enough.
Big Ram is good for keep router work smoothly when it has many clients.
One more reason is I use DD-WRT to replace the original firmware. I do like DD-WRT.
The news from Buffalo said it will COLLABORATE with DD-WRT TO CREATE THE MOST COMPREHENSIVE CONSUMER AND SMALL BUSINESS WIRELESS OFFERING.
This time replacing firmware is not difficult and complicated. It is just like an original firmware upgrade. From web admin windows to upgrade is simple.
Right now I used it just couple of days. I will use it more and see how good or bad it is.