I have a Buffalo Nfiniti WIRELESS-N WZR-HP-G300NH which I bought about one year ago. I also flash the router to DD-WRT firmware.
Now, since I moved to a townhouse, one router can not cover whole house. I need one more to extend the WiFi coverage.
So, I bought another Buffalo Nfiniti WIRELESS-N WZR-HP-G300NH at about $80.
This time, it is version 2. So called Buffalo Nfiniti WIRELESS-N WZR-HP-G300NH2. The main features are same, but shipped with DD-WRT firmware. The customized firmware for Buffalo.
I put the old one on the main floor, and connect it with cable modem as AP. The new router is configed as Client Bridge(routed), and in the basement.
AP, old router, connected all wireless devices. and also connect to the new router with full bandwidth.
New router wired connect PCs in the basement.

I can also setup both with WDS technology.
WDS means Wireless Distribution System.
Extend coverage of your wireless network by interconnecting multiple access points.
It is easy to setup, but has only half bandwidth can be used for the second AP.
More information here for WDS.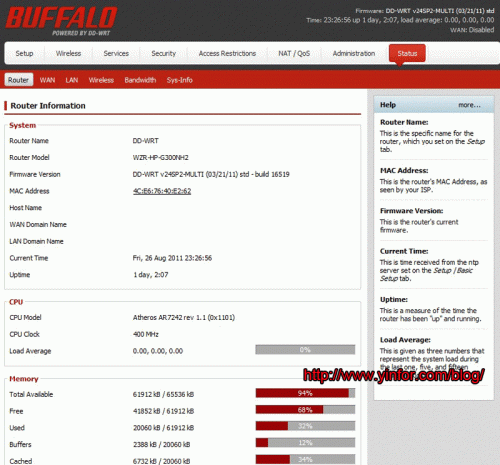 Buffalo also updated their feature sheet of it.
High Power Wireless Design: Optimized external antennas and an onboard power amplifier enhance signal strength and range
Supports Multiple Wireless Standards: Creates 802.11n, 802.11g and 802.11b networks
Powered by DD-WRT: Advanced wireless performance, security and routing options
Wi-Fi Certified™: Ensures compatibility with other certified devices
2X2 Antenna Con­figuration: High speed wireless performance up to 300 Mbps
True VPN Endpoint: Access your network from anywhere in the world
FTP Server: Built-in FTP server via USB 2.0 storage port
Wireless Distribution System (WDS): Extend your wireless network across access points
Gigabit Ethernet Ports: Allows up to 4 simultaneous wired connections
Adjustable Antennas: Eliminate dead spots by fine-tuning your antenna positioning
Push-button Setup with AOSS™: Wirelessly connect other AOSS devices with the simple push of a button
Multi-level Wireless Security Support: WPA2(TKIP, AES), WPA-PSK (TKIP, AES), and WEP (128/64-bit)
Bridging and Repeating: Features external switch to easily change between router and access point modes
Easy Setup: Simple to install and use – even for the novice user
Eco Minded: Energy saving feature reduces power consumption by 80%
Flexible Placement: Position vertically, horizontally or mount on a wall
The CPU is Atheros AR7242 rev 1.1 (0x1101) CPU Clock 400 MH.