I just checked my router, Buffalo WZR-G300NH, I bought it 10 months ago. I installed DD-WRT on it to replace the firmware build-in.
It is running smoothly over 277 days. Never re-boot during last 9 months.
So I would like to show off my ROUTER.
Look at the screen shot below of the dd-wrt infor page.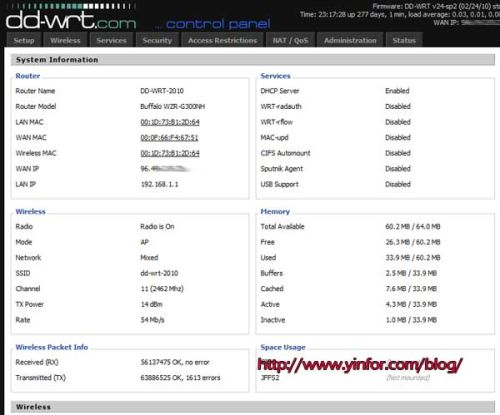 The reason why the router can work for such long time is the CPU and Memory
RAM 64 MB
FLASH 32 MB
The CPU is 400MHz.
Large memory and powerful CPU make it strong and DD-WRT make it work stable.
Now I am planning to upgrade firmware to the latest one.
The current version of firmware is: DD-WRT v24-sp2 (02/24/10) std – build 13977
The latest version of firmware I saw on DD-WRT official site is: v24 preSP2[beta] Build 14896
I will use the web update function to upgrade DD-WRT firmware next week.